PATENT ATTORNEY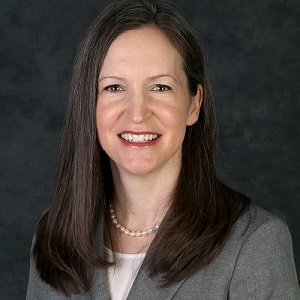 Michele Mayberry provides legal counseling and services relating to obtaining and enforcing intellectual property rights, including patents, trademarks, and copyrights.  Scientific areas of her practice include chemistry, biotechnology, electrical, and mechanical arts.
More specifically, Ms. Mayberry has patent related experience in pharmaceuticals, laboratory
instrumentation, medical devices, photosensitive coatings, molecular diagnostics, cosmetics, food and beverages, software, mobile applications, industrial tools, construction, insecticides, athletic footwear, engines and electrical generators, nuclear power generators, aerospace, and optoelectronics.
Ms. Mayberry began her career as an attorney as an associate with Finnegan Henderson in Washington, DC.  Ms. Mayberry's litigation experience includes extensive discovery-related experience, including in taking and defending depositions of fact witnesses and identifying and working with scientific experts and economists to support and present case-specific liability and damages theories.  She also has experience in claim construction analysis and in preparing Markman briefs.
Ms. Mayberry's litigation experience enhances her ability to draft litigation-ready patent applications and claims and to provide opinions of counsel in the context of infringement and validity, patent prosecution, and licensing.  Ms. Mayberry counsels clients in identifying, investigating, and resolving potential patent infringement situations through patent licensing and negotiation.  Prior to law school, Ms. Mayberry was an analytical chemist in a clinical and forensic toxicology lab.  During law school, she was assistant editor for the Food and Drug Law Journal; a law clerk with the Office of Unfair Import Investigations at the U.S. International Trade Commission; and an intern to the Hon. Thomas F. Hogan, then Chief Judge of the U.S. District Court for the District of Columbia.
Education
J.D., George Washington University
B.S., Chemistry, George Mason University
Admissions
Virginia
District of Columbia
Supreme Court of the United States
U.S. Patent and Trademark Office
Experience
Clinical and Forensic Toxicology (1987-96)
B.S. Chemistry – George Mason (1996)
Private Practice since 1999
Clerk for then Chief Judge Thomas F. Hogan – U.S. District Court for the District of Columbia
Clerk for US International Trade Commission – Office of Unfair Import Investigations
Assistant Editor – Food and Drug Law Journal
J.D. – George Washington (1997-2001)
Finnegan Henderson (2000-2006)
Latimer & Mayberry IP Law, LLP (2006-2010)
Adjunct Professor, Virginia Tech (2008-2016)
New River Valley IP Law, PC (2010-present)
Services
IP Prosecution (Patent, Trademark & Copyright)
IP Litigation
IP Portfolio Management
Industries
Life Sciences; Pharmaceuticals; Software; Medical Devices; Energy; Cosmetics; Optoelectronics; Construction; Footwear